As the We4Change project develops, we will share here the educational resources we create, but also other materials and useful information from our partners.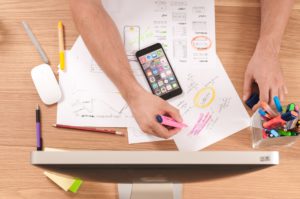 We4Change Changemakers Event Curriculum
The curriculum  is the basis for organizing and facilitating the We4Change Changemakers events where girls and young women will be provided with the skills, resources, inspiration and confidence to collectively design projects that address climate change.
The curriculum can be downloaded for free below: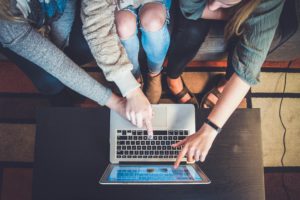 We4Change "Train the Trainers" Programme
A training workshop, accompanied by a handbook support trainers and youth workers – including those that may have never applied before gender mainstreaming tools – to organize effectively a We4Change Changemakers Event. It includes both the practical aspects of organizing the events, but also information the the theoretical frameworks and best practices that guiding the We4Change concept.  
The handbook can be downloaded for free below: 
We4Change research resources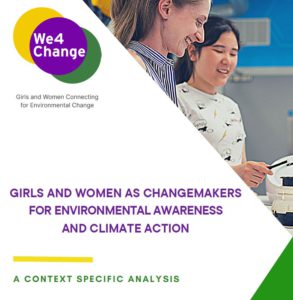 GIRLS AND WOMEN AS CHANGEMAKERS FOR ENVIRONMENTAL AWARENESS AND CLIMATE ACTION: A CONTEXT SPECIFIC ANALYSIS
Used to develop the "We4Change Changemakers Event Curriculum", this analysis aims to identify what motivates girls and young women across Europe to develop their creativity, knowledge and skills for the future and contribute to society, and how to best use ESTEAM to support this goal. Likewise, we will look at what are policy priorities and initiatives in five European countries, as well as other activities that share the same objectives.
The publication is available for download here.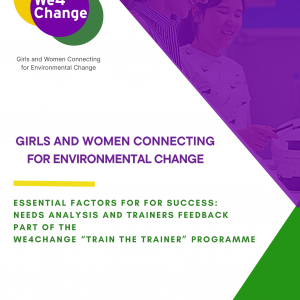 ESSENTIAL FACTORS FOR FOR SUCCESS: NEEDS ANALYSIS AND TRAINERS' FEEDBACK, PART OF THE WE4CHANGE "TRAIN THE TRAINER" PROGRAMME
Used  to develop the "We4Change Train the Trainer" programme, this analysis includes a survey and collecting direct feedback  focused on the identification of needs of youth workers regarding the acquisition of new skills for empowering girls and young women in environmental action and regarding their preference in format of training activities and in type of participatory training methodologies.
The publication is available for download here.
Toolbox of additional educational resources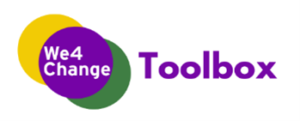 Learn more about gender equality:
✓ Train the Trainer in Gender Equality Curriculum, available at: https://www.jafnretti.is/static/files/utgefid_efni_af_gomlu_sidu/curriculu m_genderstrat_final.pdf
✓ #Women2030 Master Manual for Training of Trainers: Building knowledge, skills, and capacity to implement gender responsive SDGs, available at: https://www.women2030.org/wp- content/uploads/2018/02/Mod-3.-Gender-sensitive-Training-and- Coaching-Skills.pdf
More information on key components of digital competences together with resources for educators can be found on the website dedicated to the European Digital Competence Framework also known as "DigiComp"  
The European Commission has developed EntreComp: the European Entrepreneurship Competence Framework as a reference framework to explain what is meant by an entrepreneurial mindset. It offers a comprehensive description of the knowledge, skills and attitudes that people need to be entrepreneurial and create financial, cultural or social value for others, identifying 15 competences in three key areas that describe what it means to be entrepreneurial. 
The European Commission has developed GreenComp, the reference framework for sustainability competences. It provides a common ground to learners and guidance to educators, advancing a consensual definition of what sustainability as a competence entails.  
Climate Fresk: a collaborative workshop design teaching the fundamental science behind climate change, empowering participants to take action.
Sustainable Development Goals put forward by the United Nations
The Social Innovation Competence Framework of the NEMESIS project provides the conceptual and theoretical underpinning for the development of high-quality social innovation teaching practices. It puts emphasis on the transformative power of social innovation to foster society's capacity to drive social change and value creation for a better, more democratic and sustainable world.