Save the dates: We4Change Changemakers Fest is coming to Belgium!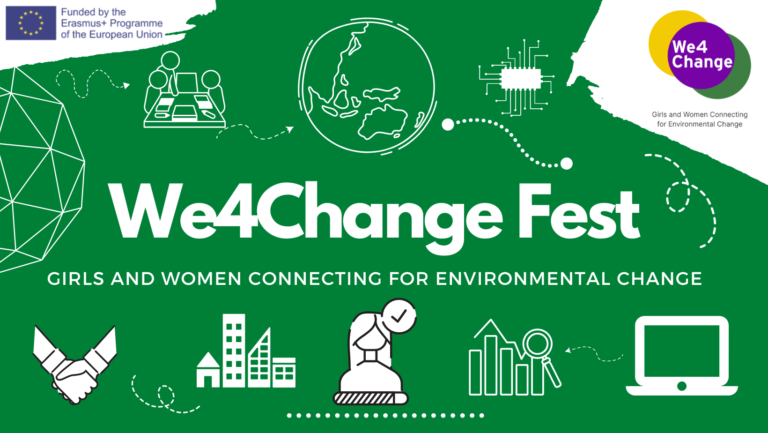 As part of the We4Change "Girls and Women connecting for environmental change" Erasmus+ international program, in November and December 2022, the We4Change Changemakers Fest is coming to Belgium! 
Three We4Change Changemaking events, will bring girls and young women together with experts, trainers and business coaches, in order to develop their digital and innovation skills, increase civic engagement and unlock their changemaking potential to address climate change and drive environmental transformation.
What are the We4Change Changemaking events?
We4Change Changemakers are "hack for good" events where young women with an entrepreneurial mindset, trainers and subject experts come together during a two-day intense marathon in order to solve specific challenges posed by climate and environmental change encountered in their communities. The events include hands-on activities, training on digital, innovation and environmental awareness skills, problem-solving and co-creation of prototypes, as well as a pitching session by the changemaking teams.
Who can participate?
The events are open to all girls and women* who want to contribute to prosperous, cohesive and sustainable societies! Participants are not required to have prior digital or innovation skills. Your curiosity and commitment to address the challenges posed by climate and environmental change are all you need!
*Anyone who identifies as a girl or woman.
How will you benefit from this event?
You will learn new skills and information to bring into your daily life: a mindset to stay open to change and innovate, learn about how climate change affects particularly girls and women, what solutions are out there to tackle them and how can you be more active in supporting your local community;

 You will acquire digital, business development and innovation skills through hands-on activities, co-creation of prototypes and pitching workshops;

Join an international community of like-minded girls and women, including experts, activists, coaches and mentors dedicated to supporting you to achieve your changemaking potential.
When are the We4Change Changemaking events taking place?
The We4Change Changemakers Fest is organized as a series of three events with specific themes linked to climate and environmental challenges:
19-20 November 2022 – We4Change: Girls and Women Connecting for Sustainable Consumption

26-27 November 2022 – We4Change: Girls and Women Connecting for Smart Cities and Mobility

3-4 December 2022 – We4Change: Girls and Women f Connecting or Clean Energy & Resource Efficiency
What is the format of the We4Change Changemaking events?
Below is the general format for each event. Participants will briefly receive the exact agenda with the name of the trainers and speakers for the event they register for.
Day 1
9:30: Registration and coffee

10:00 – 11:00 : Introduction of the event thematic by Digital Leadership Institute & inspirational speech

11:00 – 13:00 : Workshop 1 on digital skills

13:00 – 14:00: Lunch break

14:00 – 15:00: Project proposals, ideation & team selection

16:00 – 18:00: Project work
Day 2
9:30: Registration, coffee & review of day 1

10:00 – 12:00 Workshop 2 on Design Thinking

12:00 – 16:00 Project work with coaches (1h of working lunch included)

16:00 – 17:00 Project presentations with jury

17:00 Feedback session and closing ceremony
How to participate to the We4Change Changemaking events?
The participation to the events is free of charge.
However, places are limited so you are required to fill-in this application form: https://forms.gle/YxPP1EV5kU8uqYQe9 
You can also register via the dedicated Eventbrire page here: https://www.eventbrite.com/e/we4change-fest-girls-and-women-connecting-for-environmental-change-tickets-461175176367
The organizing team will send a confirmation email to confirm your participation. 
How else can you contribute?
If you would like to be part of to the organization of events, we are happy to receive your support! Below are some ways you can contribute:
 Be or suggest us an inspirational speaker

Volunteer to hold one of the workshops during the events (digital skills, business training, a training linked to the event thematic)

Volunteer to do business coaching during the hackathons

Volunteer as jury member for the pitching competition

Follow-up support: coaching and mentoring after the event for the winning teams.
Fill-in this partner application form and let us know how would you like to be involved: https://forms.gle/zcPnzppq1kjdm9He9
Selected organizing partners will receive a 1h online training on the main aspects of organizing a successful  We4Change Changemakers event.
Frequently asked questions
I can't stay the whole time, can I still participate?
Of course! We realize that a weekend is a long time and people may need to attend to other commitments.
What if I don't have any digital or business skills?
You are still welcome! We have dedicated digital and business skills development sessions, so you will be learning at the same time as the other participants. As long as you come willing to learn and contribute ideas.
What if I don't have any entrepreneurial idea?
You are still welcome! During the event you will be inspired and learn from others what kind of entrepreneurial solutions are out there or need to be developed, and you could join one of the teams already working on an idea.
What do I bring?
Bring your laptop, mobile phone, scratch paper and curiosity. We will provide some food, some drinks, wi-fi, power and challenges.
How much it costs to attend the events?
The participation to the events is free of charge.
Can I attend more than one event?
Yes, you are more than welcome to attend several events and bring new ideas to the teams.
How do I register?
Fill-in this application form: https://forms.gle/YxPP1EV5kU8uqYQe9 
The organizing team will send a confirmation email to confirm your participation. 
We4Change: Girls and Women connecting for environmental change is funded  by the Erasmus+ programme of the European Union and seeks to contribute to the EU Youth Strategy with a specific female-focused approach, that responds directly to the specific gender-based needs of girls and young women across Europe, offering thus an appropriate and innovative way to empower and engage them in their communities and society-at-large. You can find out more about the project here: http://we4change.eu/

24 August 2022
Newsletter August 2022
Achieving Gender Equality
Disclaimer: This article was taken as is from In focus: Sustainable Development Goal 5
The Sustainable Development Agenda, adopted by UN Member States in 2015, set a 2030 deadline for the achievement of gender equality and the empowerment of all women and girls. Now, with under 10 years left to meet it, the world is not on track. Amid the intersecting crises of COVID-19, the climate emergency, and rising economic and political insecurity, progress on gender equality has not only failed to move forward but has begun to reverse. Around the world, a growing backlash against women's rights is threatening even well-established freedoms and protections.
Without heightened commitment from the global community, gender equality will remain nothing more than an unrealized goal. The time to act and invest in women and girls is now.
The achievement of gender equality is the fifth of 17 Sustainable Development Goals (SDGs) laid out in the Sustainable Development Agenda. Ten additional goals include gender-specific benchmarks, acknowledging the interconnection between women's empowerment and a better future for all.
The latest data on progress towards gender equality across the SDGs, compiled in UN Women's 2022 edition of our annual Gender Snapshot Report, reveals the inadequacy of present-day efforts. If change continues at its current rate, our analysis shows that gender equality will remain unrealized for centuries to come.
That's where analysis is possible at all. Pervasive gaps in gender data pose a significant barrier to the evaluation of progress, with only 48% of data needed to monitor SDG5 currently available.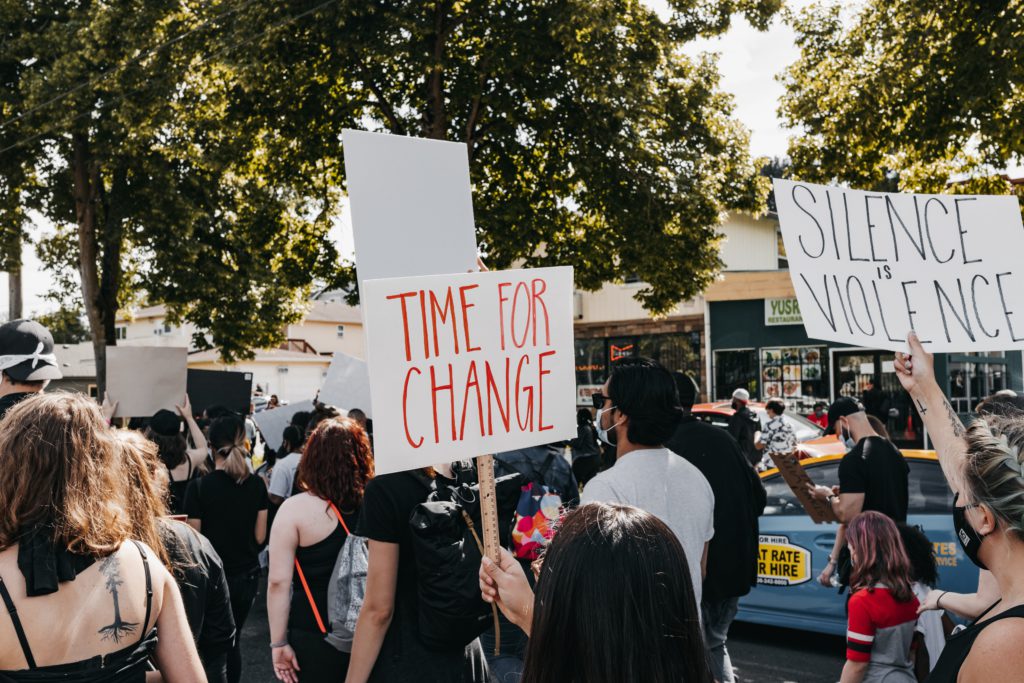 Other news:
Newly launched Generation Equality Accountability Platform and 2022 Report demonstrate initial progress and high aspirations for the road ahead
Three challenges for rural women amid a cost-of-living crisis
29 July 2022
Newsletter July 2022
Disclaimer: This article was taken as is from Innovation Fund: EU invests €1.8 billion in clean tech projects* 
Today, the EU is investing over €1.8 billion in 17 large-scale innovative clean-tech projects with a third round of awards under the Innovation Fund. Grants will be disbursed from the Innovation Fund to help bring breakthrough technologies to the market in energy-intensive industries, hydrogen, renewable energy, carbon capture and storage infrastructure, and manufacturing of key components for energy storage and renewables. The selected projects are located in Bulgaria, Finland, France, Germany, Iceland, the Netherlands, Norway, Poland, and Sweden.
Executive Vice-President Frans Timmermans said: "Today's grants support innovative businesses across Europe to develop the cutting-edge technologies we need to drive the green transition. The Innovation Fund is an important tool to scale up innovations in renewable hydrogen and other solutions for European industry. Compared to the first disbursement round, the funds available have increased by 60%, enabling us to double the number of projects supported. This is a big boost for the decarbonization of energy-intensive industry in the European Union."
The 17 projects were selected under the second call for large-scale projects, meaning they have capital costs above €7.5 million. The projects were evaluated by independent experts based on their ability to reduce greenhouse gas emissions compared to traditional technologies and to innovate beyond the state-of-the-art while being sufficiently mature for deployment. Other selection criteria included the projects' potential for scalability and cost-effectiveness.
The selected projects cover a wide range of sectors contributing to the EU's decarbonization efforts such as production, distribution, and use of green hydrogen, waste-to-hydrogen, offshore wind, manufacturing of photovoltaic (PV) modules, battery storage and recycling, carbon capture and storage, sustainable aviation fuels, and advanced biofuels. Together, they have the potential to save 136 million tonnes of CO2eq over their first 10 years of operation.
In addition, up to 20 projects that are promising but not yet sufficiently mature for a grant will be pre-selected for project development assistance by the European Investment Bank. These will be announced in the fourth quarter of 2022.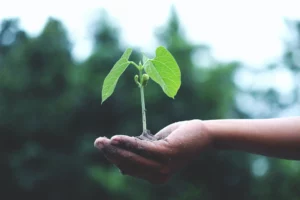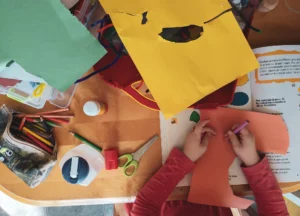 It is a day to celebrate the strategic importance of equipping young people with skills for employment, decent work, and entrepreneurship. We4Change supports female youth empowerment through digital action and civic change-making. 
World Youth Skills Day 2022 takes place amid concerted efforts towards socio-economic recovery from the COVID-19 pandemic that are interconnected with challenges such as climate change, conflict, persisting poverty, rising inequality, rapid technological change, demographic transition, and others.
29 June 2022
Newsletter June 2022
Disclaimer: This article was taken as is from Climate change measures must take account of gender equality or risk further impact on women's quality of life, local and regional leaders warn  
The EU's assembly of cities and regions calls on the Commission and co-legislators to commit to gender budgeting
Climate change has a greater impact on the poorest of society, with women and girls being particularly vulnerable and at risk of being heavily impacted by global warming and environmental damage. EU climate policy will only succeed if it fully integrates gender equality in all its solutions, local and regional leaders have stressed.
Local and regional politicians in the European Committee of the Regions (CoR) have long denounced the lack of gender mainstreaming in the EU's flagship policies. At its January plenary session, the CoR adopted a strongly worded opinion on Gender equality and Climate change: towards mainstreaming the gender perspective in the European Green Deal that calls for gender equality to be fully developed in EU climate policies and the European Green Deal. The move comes after a recent opinion calling for a similar approach to cohesion policy.
Kata Tüttő (HU/PES), a rapporteur for the CoR opinion and deputy mayor of Budapest, declared: "The Green Deal is the new growth strategy of the EU, but we will not have genuine growth without tackling gender inequalities. This is why the Green Deal is intrinsically intertwined with gender equality. There is a huge potential in cities and regions to close the gender gap, but we can only do it if we are just and listen to the needs of people. There must be a gender lens on the Green Deal and we need to show local decision makers that they are key actors to lead Europe in creating more liveable cities for everyone."
The economic and social inequalities between men and women across the EU have a knock-on effect in a wide variety of areas, including many directly impacted by EU climate policies such as transport and energy. For example, the decarbonization of our vehicles and buildings that the EU needs to make to meet its Green Deal ambitions must not further disadvantage women and girls because they are less likely to be able to afford newer, more expensive technologies.
The CoR opinion not only calls for gender mainstreaming in climate policy but also for the European Commission, the European Parliament, and the EU Council to commit to a gender-based approach to budgeting as a whole, making a clear link to gender in all EU decisions on revenue and expenditure. This is still far from the case, with the most recent legislation such as the rules governing access to EU recovery and resilience funding to help support post-pandemic growth failing to include and reference gender mainstreaming.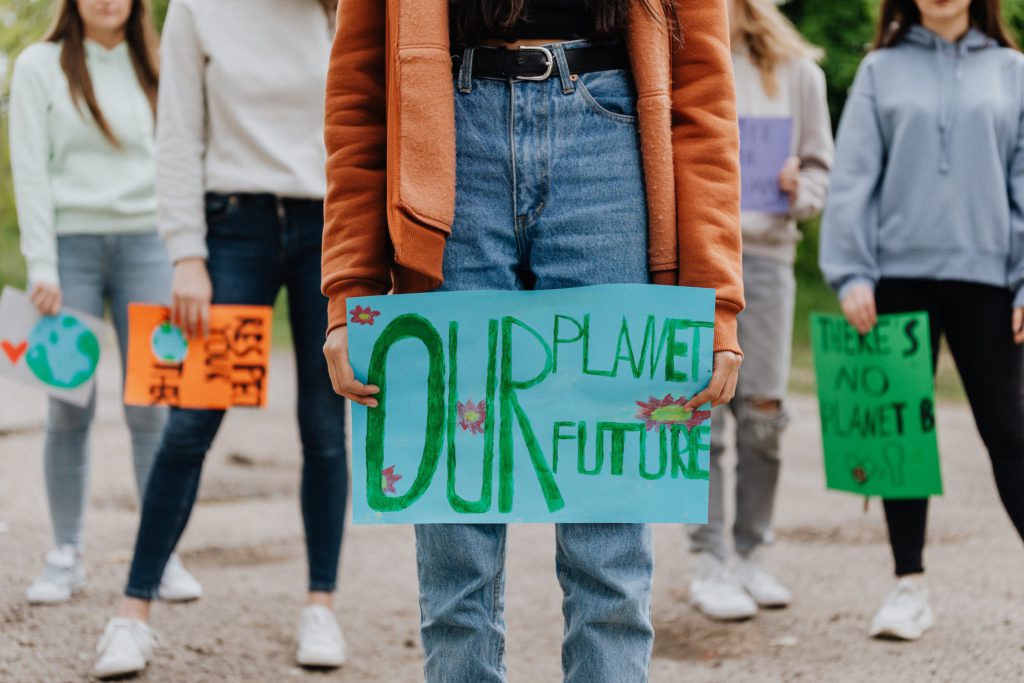 International Day of Women in Diplomacy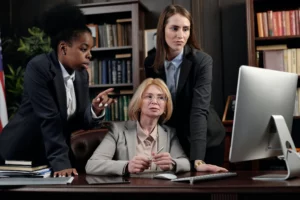 This day marks the day that recognizes the trivialization of women diplomats and their contributions. Countries worldwide honor their achievements and strive toward recruiting more women into the diplomatic corps. Obstacles in the way of women achieving gender equality will be tackled and eliminated.
28 May 2022
Newsletter May 2022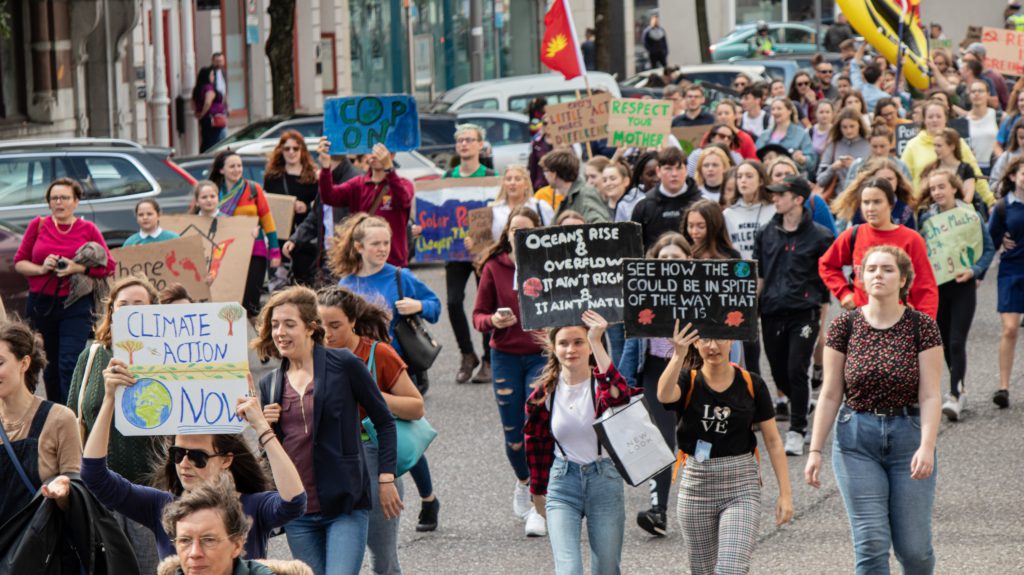 Disclaimer: This article was taken as is from Gender & Climate Change: an important connection
Climate change has a greater impact on those sections of the population, in all countries, that are most reliant on natural resources for their livelihoods and/or who have the least capacity to respond to natural hazards, such as droughts, landslides, floods, and hurricanes. Women commonly face higher risks and greater burdens from the impacts of climate change in situations of poverty, and the majority of the world's poor are women. Women's unequal participation in decision-making processes and labor markets compound inequalities and often prevent women from fully contributing to climate-related planning, policy-making, and implementation.
Yet, women can (and do) play a critical role in response to climate change due to their local knowledge of and leadership in e.g. sustainable resource management and/or leading sustainable practices at the household and community level. Women's participation at the political level has resulted in greater responsiveness to citizens' needs, often increasing cooperation across party and ethnic lines and delivering more sustainable peace. At the local level, women's inclusion at the leadership level has led to improved climate-related projects and policy outcomes. On the contrary, if policies or projects are implemented without women's meaningful participation it can increase existing inequalities and decrease effectiveness.
Parties to the UNFCCC have recognized the importance of involving women and men equally in UNFCCC processes and in the development and implementation of national climate policies that are gender-responsive by establishing a dedicated agenda item under the Convention addressing issues of gender and climate change and by including overarching text in the Paris Agreement.
International Girls in ICT Day
(Information and Communications Technology)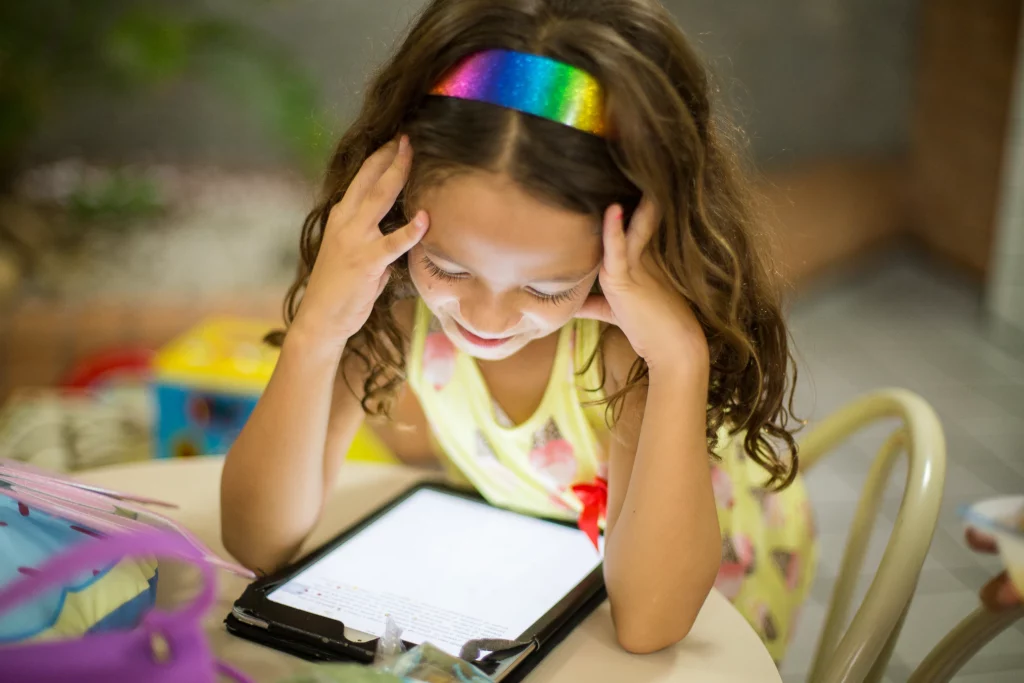 International Girls in ICT Day is celebrated on the fourth Thursday in April to stress the importance of girls in I.C.T. and encourage more girls and young women to pursue STEM education. I.C.T., the abbreviation for Information and Communications Technology, is an encompassing term for the technologies required to transmit, store, create, share, or exchange information. These technologies include the internet, computers, live broadcasting technologies, and telephony. 
The We4Change project understands that I.C.T. provides career opportunities to young female professionals, access to the global market to women entrepreneurs and female-led businesses, and reduces the gender inequality gap. Therefore, one of the project's main objectives is to offer access to educational resources and training to build girls and young women's capacity.
27 April 2022
Newsletter April 2022
Need for Gender-Responsive Climate Actions

Climate change is accelerating and impacting many communities. Those left worse off are from poor developing countries who end up suffering more from rising sea levels, extreme weather conditions, and temperature increases. 
In such developing countries women and men are impacted differently.  Women are already deprived of basic education, the ability to own property, and employment opportunity. There is a suppression of their voices on many topics and climate change solution is one of them.
Women who depend on agricultural means to feed a household experiment hardship due to climate change. It makes it harder for women to navigate through the continuously changing weather patterns. For instance, if there is a drought or flood in a particular area, it becomes hard for them to get crops, that is it makes it harder for them to get food.
Thus, climate action should never disregard the needs of women because the action becomes ineffective for the needs of many.  And there is much need to implement actions that are gender motivated to ensure that the consequences that climate change carries for women are well handled.
Is the moment to change it all: the business climate, the political climate, and how to take action on climate. Now is the time for the unstoppable courage to preserve and protect the health of every citizen, family, and livelihood.
For Earth Day 2022, everyone needs to act (boldly), innovate (broadly), and implement (equitably). It's going to take every single person out there. All in. Businesses, governments, and citizens — everyone accounted for, and everyone accountable. A project like We4Change is for the planet. It's time to introduce an innovative and highly effective way of engaging more girls and young women in environmental action and civic participation.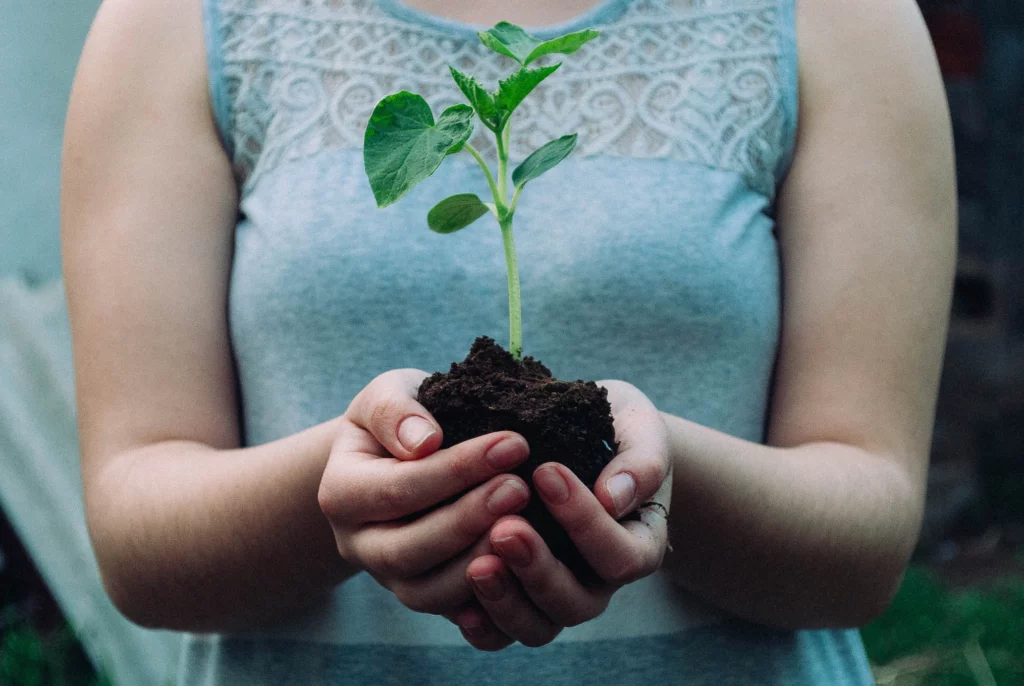 World Creativity and Innovation Day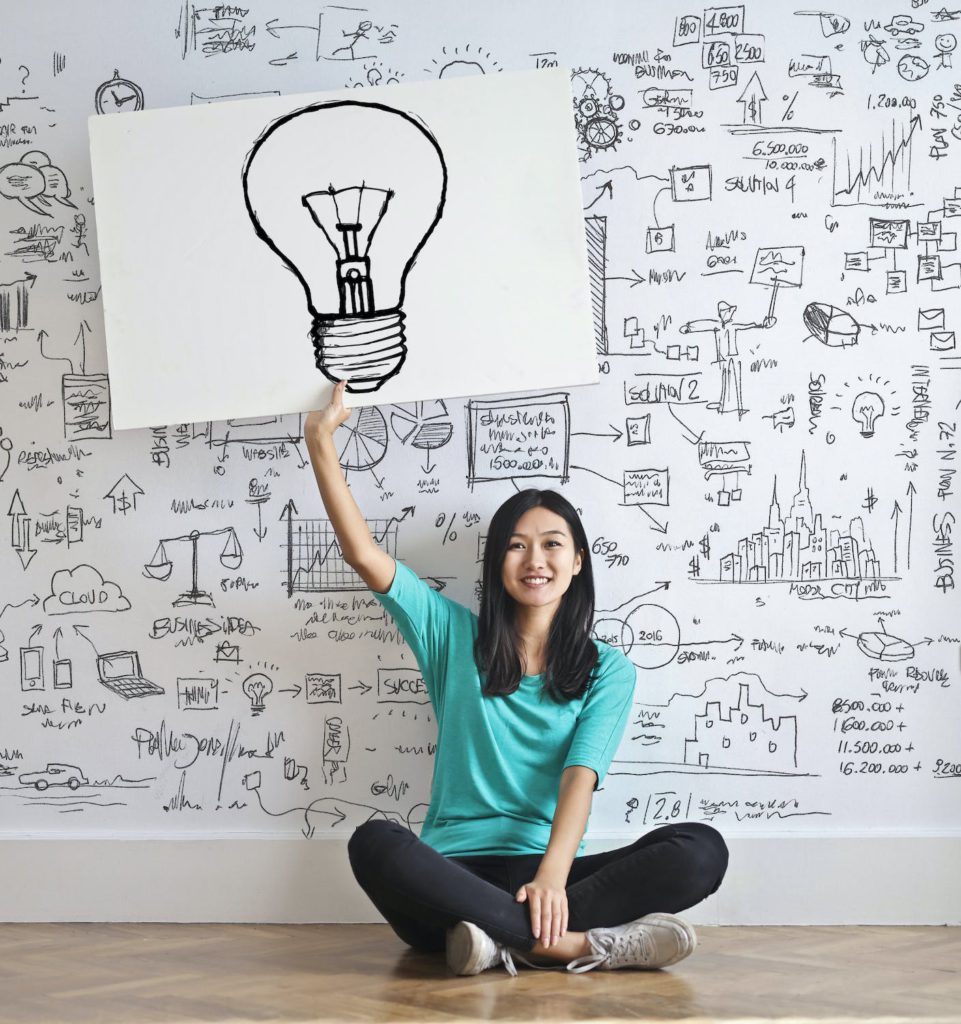 There may be no universal understanding of creativity. The concept is open to interpretation from artistic expression to problem-solving in the context of economic, social, and sustainable development. Therefore, the United Nations designated 21 April as World Creativity and Innovation Day to raise awareness of the role of creativity and innovation in all aspects of human development. We4Change project values creativity and innovation as an important skill that encourages girls and young women to effectively engage in society. 
29 March 2022
Newsletter March 2022
Role Model Greta Thunberg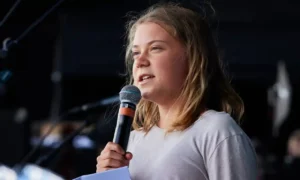 Greta Thunberg is a young climate activist from Sweden who started an international movement to fight climate change in 2018. With the simple, yet strong message "School strike for climate". Thunberg skipped school on Fridays to protest outside the Swedish Parliament. Thanks to social media, she spread her actions and influenced millions of young people worldwide to organize and protests known as "Fridays for Future". She put pressure on lawmakers to address climate change.
The participation of young women in climate action is essential as they hold decision-makers accountable and are able to provide a mobilization of the masses. 
International Women's Day
It is a global day celebrating women's social, economic, cultural, and political achievements. This day also marks a call to action for accelerating gender parity; gender perspective is one important aspect of the We4Change project as it aims to make a change in areas that remain highly influenced by gender-based inequalities. Significant activity is witnessed worldwide as groups come together to celebrate women's achievements or rally for women's equality. 
Marked annually on March 8th, International Women's Day (IWD) is one of the most important days of the year to:
Celebrate women's achievements
Raise awareness about women's equality
Lobby for accelerated gender parity
Fundraise for female-focused charities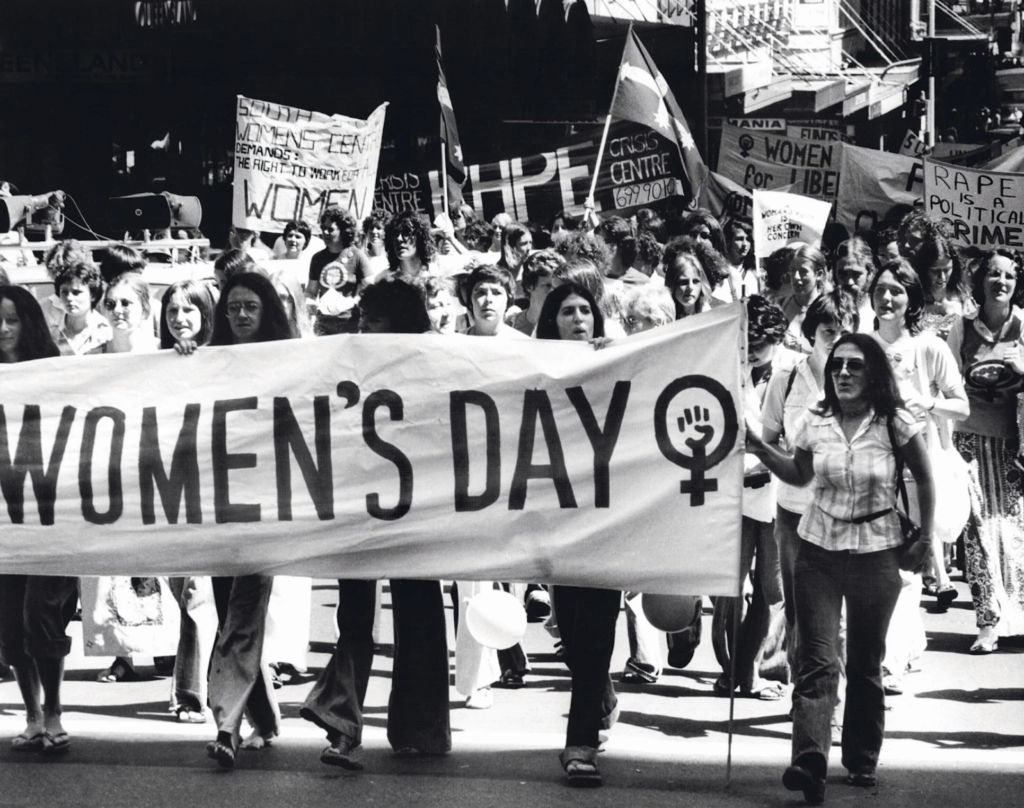 26 February 2022
Newsletter February 2022
Climate Change isn't Gender Neutral
There is a scientific consensus on the existence and causes of climate change. Unfortunately, those most affected end up being marginalized communities, women and girls being the most vulnerable ones. The vulnerability of women due to climate change stems from multiple factors – economic, social, and cultural. Having recognized this, the EU climate policies and the European Green Deal are valuable strategies to combat this, but it is also intrinsic to tackling gender inequalities. The recognition that the climate crisis is not gender neutral, has been adopted by some but not all. In fact, the element of gender in climate change resolution for some brings climate feminism to light.
This year it was proven that women are more vulnerable to energy poverty as single mothers make up 14% of households in the EU. Due to the gender pay gap highly present in Europe, there is a deficiency in the autonomy of these women in managing their lives. Also, amid the increase in pricing of gas and electricity which are being faced this year due to war rages in Ukraine, it leaves these women more vulnerable. 
The efforts of organizations such as the Green European Foundation in Finland must be praised for becoming a forefront force in feminist climate activism. In the month of February, they launched a group of Feminist Climate Ambassadors. The group encompasses activists, politicians, academics, social media influencers, etc. This organization offers a participatory online training course and a study trip to either the COP26 in Glasgow or Ecopolis and the European Parliament in Brussels. The aim of this course is to "build safer spaces, where feminists can learn tactics, share their experiences, and network with other activists for a sustainable future."  This provides the opportunity for women to learn strategies and ultimately be able to launch their initiatives and projects.
For these reasons, the full participation of women and girls in climate change policies becomes incremental for their security.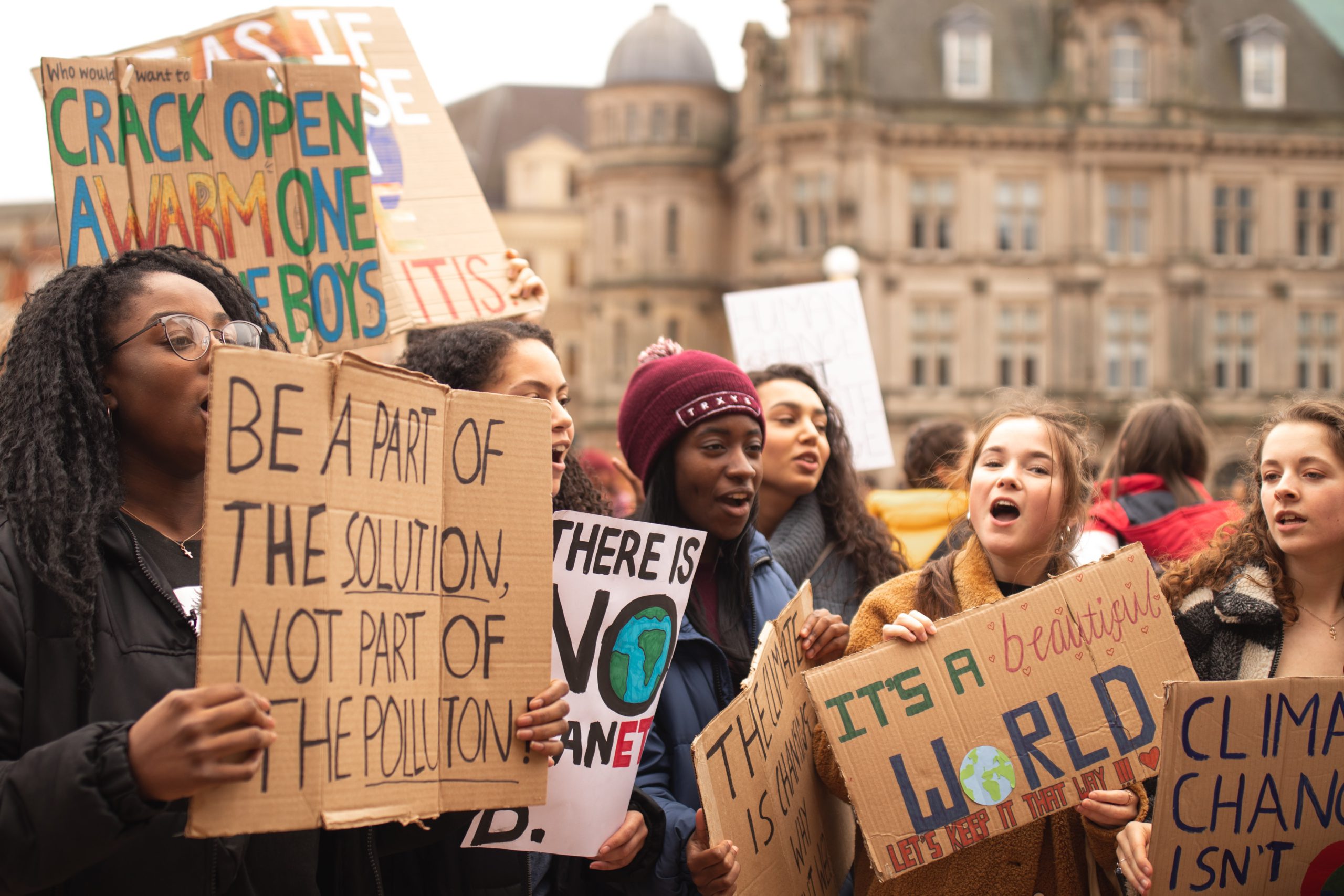 11 February 2022
Newsletter February 2022
International Day of Women and Girls in Science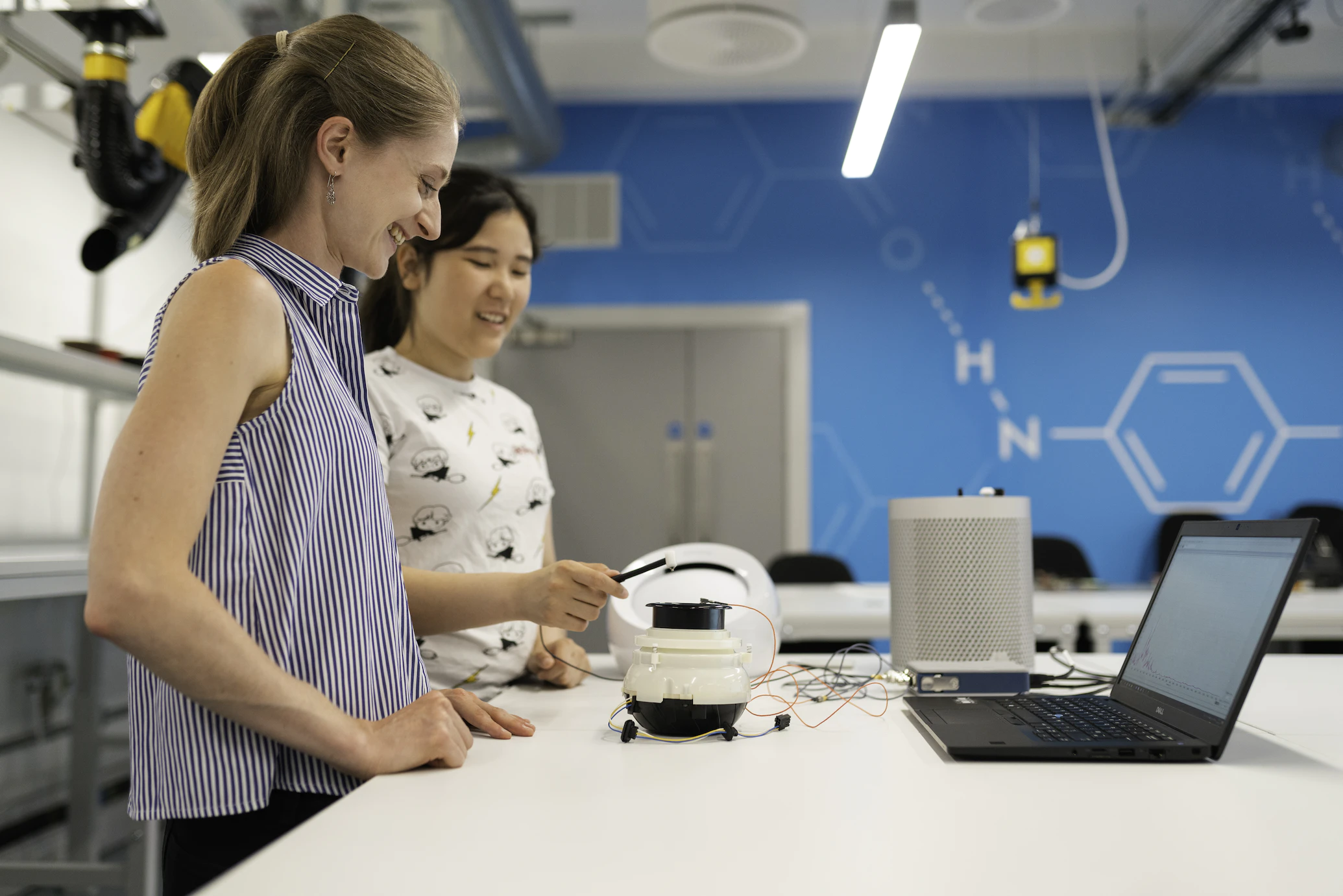 It is an annual observance adopted by the United Nations General Assembly to promote the full and equal access and participation of females in Science, Technology, Engineering, and Mathematics (STEM) fields. A theme is selected annually to highlight a particular focus and area of discussion around a focal point for gender equality in science. Just as We4Change project, it aims to engage, connect and empower women and girls to unlock their change-making potential through science.
28 January 2022
Newsletter January 2022
Women in Social Entrepreneurship – Adriana Mano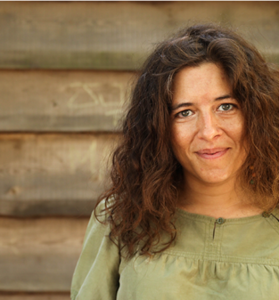 Women entrepreneurs are paving the way for a sustainable future.
There are high levels of difficulty in venturing into the business world. Anyone who is brave enough to step into the market and sell their goods and services should be applauded. Women entrepreneurs face different battles and unfortunately in many circumstances are not given the same opportunities as their male counterparts.
The initiative to adventure into entrepreneurship and addressing climate change for a sustainable future is a remarkable effort. One which was taken by our role model, Adriana Mano. She is a social entrepreneur who was able to bring forward strategic development thinking. In 2019, she founded Zouri a Portuguese eco-vegan footwear brand using plastic trash and ecologic, sustainable materials. She wants to inspire people to think creatively and see trash as a resource. 
Zouri is an eco-vegan footwear brand that uses plastic trash from the Portuguese coast together with ecologic and sustainable materials. As a result, Zouri has removed 1 ton of plastic from the Portuguese beaches this year.
Other news:
Why the world needs to invest in female climate entrepreneurs 
The net-zero transition: what it would cost, what it could bring 
We are all complicit in climate change — so we should all pay to fix it 
We4Change partners launch the Call for Applications for the Train the Trainer Workshop
Edited 15.02.2022
We4Change consortium is looking for enthusiastic youth workers and trainers to support with the We4Change Changemakers events and launched the call for applications for the Train the Trainer workshop!
What is the Train the Trainer Workshop?
It is a training dedicated to youth workers and trainers that are interested to learn how to effectively deliver a We4Change Changemakers event – a hackathon-like event that offers an innovative combination of hands-on activities, training on digital, innovation
and environmental awareness skills, problem-solving and co-creation skills to young girls and women to address climate change.
The participants will learn a series of methods of facilitation of such type of event, which includes an important gender element, but also entrepreneurship and environmental activism.  They will develop their communication skills to work with a diverse audience, to change and adapt to different situations and how to handle complex group dynamics to keep things running smoothly. In addition, they will be trained to deliver or assist several workshops on themes such as:   digital, design thinking and pitching.
Below you'll find the draft programme of the training: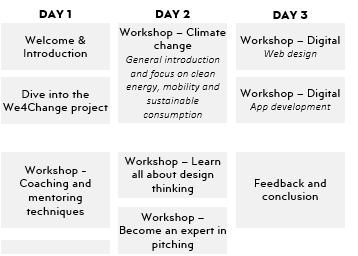 Upon completion of the training, participants will receive a YouthPass certificate documenting learning outcomes acquired in projects under the Erasmus+ programme of the European Union.
When will the Train the Trainer Workshop take place?
The training will take place in person between 15-17 March 2022, In Brussels (Belgium). Applicants must be available to participants to the entire 3 days training.
Travel and accommodation costs will be covered by the sending organization within the limits of:
Participants from Belgium: 20 EUR travel grant and 530 EUR for individual support (accommodation and food);
Participants from France: 180 EUR travel grant and 530 EUR for individual support (accommodation and food);
Participants from Greece: 275 EUR travel grant and 530 EUR for individual support (accommodation and food);
Participants from Moldova: 275 EUR travel grant and 530 EUR for individual support (accommodation and food);
Participants from Portugal: 275 EUR travel grant and 530 EUR for individual support (accommodation and food);
Who can apply?
The training program is addressed to youth workers, trainers, coaches and mentors working or interested in working with girls and young women on the thematics covered by the We4Change project (youth empowerment, environmental action, digital skills, entrepreneurial mindset).
In order to be eligible, all applicants must:
Be available for the entire duration of the training (15/03-17/03/2022)
Be available to support as trainer during at least one of the We4Change Changemakers Events that will be organized by the sending organization in the period March – August 2022 (volunteer contract)
Have a B2 English level (the training is organized in English)
Have previous experience in working with youth in the areas covered by the We4Change project (climate change, digital skills, youth empowerment, entrepreneurship)
Be a resident in one of the following countries: Belgium, France, Greece, Moldova or Portugal.
Application and selection procedure
All applications must be submitted via the application form available at: https://bit.ly/3FoveZA, before the set deadline of 10th of December at 23.59 CET. By submitting the application, applicants recognize to be aware and agree with the eligibility criteria and practical information shared for this call.
The applications will be evaluated in the period 13-16 of December under the following selection criteria:
Motivation of the applicant on relation to the objectives of the training;
Relevance of the applicant's previous experience in the field of youth work;
Availability to support as trainer during at least one of the We4Change Changemakers Events that will be organized by the sending organization.
Following the eligibility check and the evaluation process, the applicants will be announced about the results of selection on the 17th of December.
We4Change Second Interim Meeting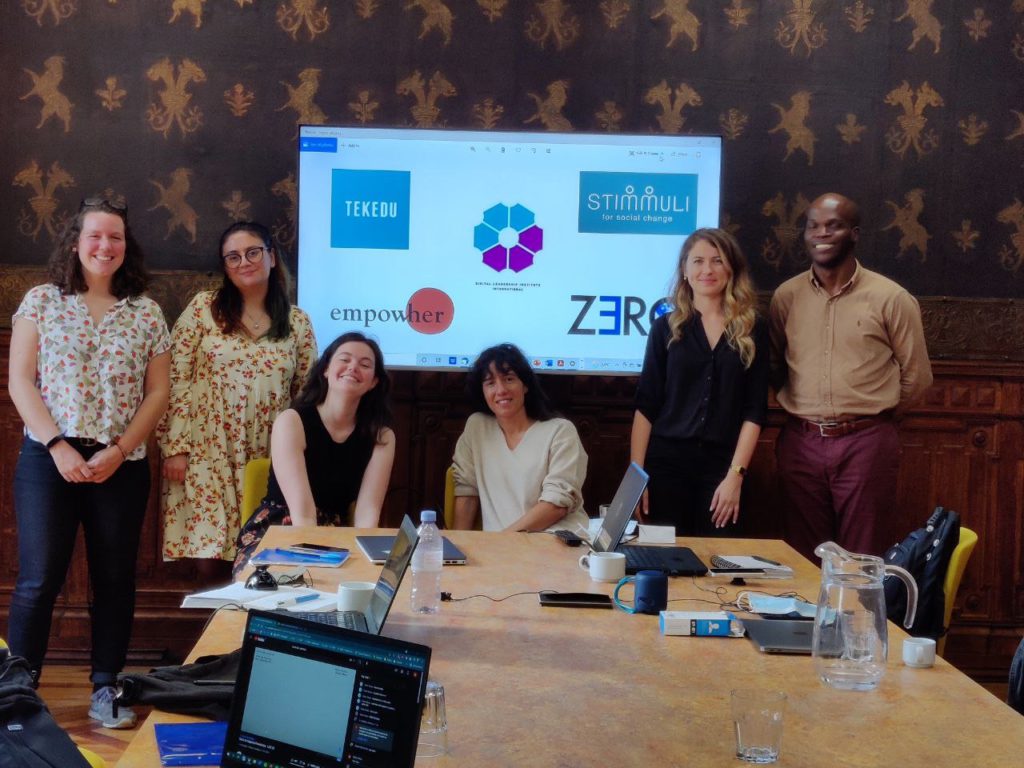 On 19 and 20 October, We4Change project partners met in Lisbon to discuss the updates of the We4Change project, but also to plan the period ahead. The main points on the agenda were the We4Change Changemakers Events Curriculum and the Train the Trainer programme, representing a series of educational resources dedicated to youth workers and organizations that want to organize and promote the We4Change Changemaking Events, raise awareness, engage stakeholders and contribute to creating an ecosystem that support girls and young women as innovators of the environmental transformation.
Next year project partners will organize across Europe a series of Changemaking Events that aim to dismantle stereotypes and boost self-confidence of girls and women as innovators, with the following elements at their core:
– Intergenerational: bringing together young and adult women together to collaborate on co-design tech solutions to address climate change in their local communities;
– Hands-on: using a "Learning by doing" approach for defusing any stereotypes, misgivings, or confidence issues; girls and women will experience a real-life innovation process by designing an app, developing a business plan, pitching an idea etc.;
– Social impact-oriented: Engaging with and learning through social action has a positive impact on young people's attitudes and engagement at large; combining them with digital and innovation skills training formats, the purpose is to drive positive change.
– Community driven: creation of supportive communities of women to enforce confidence and self-esteem and promote gender balance in civic participation.
The events will take place in Belgium, France, Greece, Portugal and Moldova in 2022.
We4Change Kick-off Meeting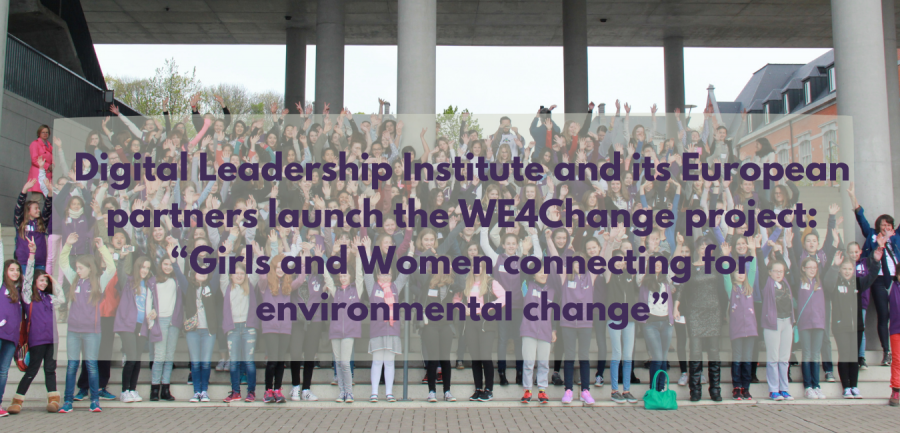 On 22 March 2021, the Digital Leadership Institute and four partner organizations from across Europe launched the WE4Change initiative supporting "girls and women connecting for environmental change." WE4Change is an EU-funded project aiming to foster civic engagement of girls and young women from disadvantaged backgrounds by empowering them to understand their strengths, develop digital, leadership and changemaking skills, and increase their sense of initiative in the social and environmental sector.
For the next two years, Digital Leadership Institute (BE), Stimmuli for Social Change (GR), Empow'Her (FR), Tekedu (MD) and ZERO Associação Sistema Terrestre Sustentável (PT) will work together to offer an innovative combination of hands-on activities, training on digital, innovation and environmental awareness skills, problem-solving and co-creation of prototypes to address climate change, responding directly to the needs of young women to break down stereotypes, develop their creativity and confidence, and contribute to society.
The first project meeting took place on the 23rd of March 2021, with project partners discussing the first project phase aiming at setting a solid and appropriate foundation for the development of the We4Change project. The first steps include a context specific gender analysis that will be conducted in each participating country looking at i) youth policy & youth participation programmes, ii) environment & climate, iii) digitalization and innovation related to the issues tackled by the project to ensure the appropriate development of the trainings and materials to be developed throughout the project.